It hardly seems like November with all of the nice days we are having. Seems hard to stay indoors to quilt, but quilt, we must! The holidays are coming up fast and if we want things done by then, we need to sew, sew, sew!
We have some great new gift-y patterns that are fun to sew. First, make a wallet using one of the new fabrics, or a favorite from your stash. This is easy and looks so professional when finished. Use the accompanying closure bar and these will make great gifts. (Sweet bird fabric!).

Next, make a holder for sewing notions that will fit right next to your machine, or the machine of a friend. These are fast and make great gifts. Made from two fat quarters, they are inexpensive as well. Find a mug in the back of your cupboard or go to the dollar store.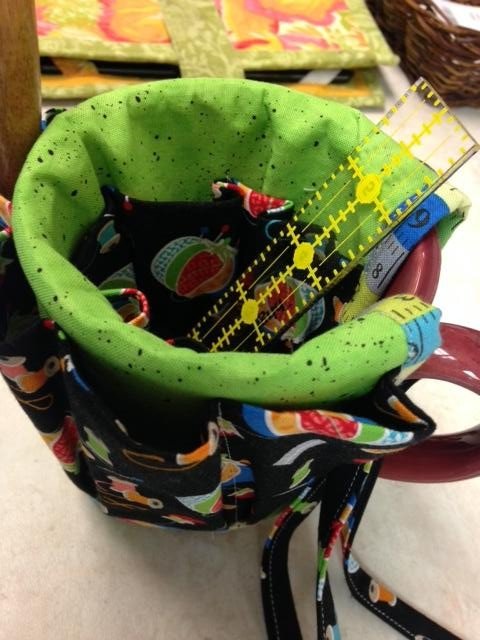 How about a cute book for the younger set? Add batting and simple stitching and you have a friendly kitty story cloth book. How sweet! Now that I know how sweet kitties can be I'm making one for myself!

Table toppers are fun and easy to make. Use Christmas fabrics or fall fabrics for the coming holidays.

WHAT'S NEW?
Kim Diehl's SIMPLE WHATNOTS CLUB. From the Gathering Basket Number 3 Collection. This club is now set up. Buy a tower of fat quarters and you will get the set of patterns, one each month for 6 months. We have set up a gathering for you to attend, if you can. The third Wednesday of the month (In November it is the 18th) at 11:00 a.m., come and learn a tip or technique to help make these quilts. Stop in to sign up! If you bring in a completed top during the month after the release of the pattern, you will get a surprise, which could be a discount on a purchase, a special price on a notion, a coupon or something else.
WEBSITE BLOCK OF THE MONTH
We are trying something new on the website. Every Saturday you will find one to three block patterns that you can download and print. Finishing instructions are already on the website and will stay there. The blocks, however, will be up for two weeks. Download them right away so you don't lose out on the patterns. Our website address is: www.attic-quilts.com. If you cannot access the internet, call ahead and stop in the store to pick up a printout. Click on the "Sampler Block Shuffle" on the orange menu bar at the far right. Click on the link to get the block.
NOVEMBER MAKE-AND-TAKES.
Every Friday in November we will have a project for you. Bring in your sewing machine and sewing kit and sew all day. Each project will require some fabric and maybe a pattern or a current magazine (several are based on the current Holiday quilting magazine). Our first project is the three striped and stuffed Christmas trees that you may have seen in our Christmas display room.
SALE!
All Minkee (52" wide) 25% off!
BLACK FRIDAY- SHOP SMALL!! Come by early, starting at 7 a.m., for early bird specials, the best specials will be early! Shop here before you go to the big box stores! Watch our Facebook Page on Wednesday before Thanksgiving for details.
Like us on FACEBOOK!
CLASSES
EQ7 Basics. Monday, November 23, 10-12. $15.00. If you are thinking of buying this quilt design software, this is the class for you. We will show you what it is all about, answer your questions and help you decide if this is the program for you. You can order the program at the end of class and it will arrive before Christmas, or put it on your wish list.
LOG CABIN BLOCKS. Monday, December 7. 10-1. $25.00. Come and make log cabin blocks using various rulers. Look at the many variations of this versatile block. Start a quilt or a table runner.
HAPPY QUILTING!